The NFI Celebrated World Prematurity Day
On November 17, 2014,  The NFI celebrated World Prematurity Day. Every day, and especially on World Prematurity Day, the NIDCAP Federation International recognizes the incredible NIDCAP care that is happening all around the world. The NFI partners with the European Foundation for the Care of Newborn Infants (EFCNI) for global support for the care of families and their preterm and medically at risk newborns.
In tribute to the families, nursery staffs and hospitals that provide ever more sensitive and nurturing care, the 2014 World Prematurity Day posters seen below were created for sharing and posting. Help raise awareness about prematurity by sharing these posters with your families and nurseries.
World Prematurity Day is observed each year on November 17.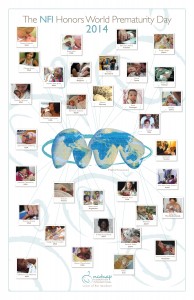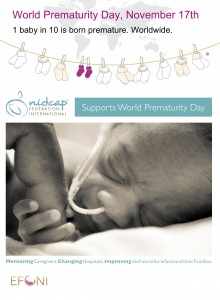 The NFI aspires for all newborns and families to receive hospital care and assessment in the relationship based, family integrated NIDCAP model, and assures the quality of NIDCAP education, training and certification for professionals and hospital systems, and advances the philosophy and science of such care.
In honor of those who care for premature infants every day please support the NFI with a donation today.