World Prematurity Day
November 17, 2015
The NFI joined the European Foundation for the Care of Newborn Infants (EFCNI) and the March of Dimes in raising global awareness for preterm infants and their families.
The NFI's family of NIDCAP Training Centers, Trainers, General Members and Board Members shared their celebrations wtih us…
NFI
In tribute to the families, nursery staff and hospitals that provide ever more sensitive and
nurturing care, the NFI shared its 2015 World Prematurity Day poster.
Forty-five nurseries around the globe share their images in celebration of World Prematurity Day.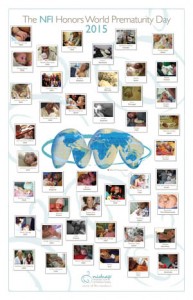 The NFI arranged for the lighting of the Leonard P. Zakim Bunker Hill Bridge in Boston, the birthplace of the NFI and headquarters to the National NIDCAP Training Center on World Prematurity Day, however the date of the lighting was changed to November 30, 2015 in order for the bridge to be lit in the colors of the French flag to show solidarity and support to Paris.  So, the Zakim bridge was lit on November 30, 2015.
Zakim Bridge Lighting November 30 2015
Zakim Bridge Lighting Postponed Press Release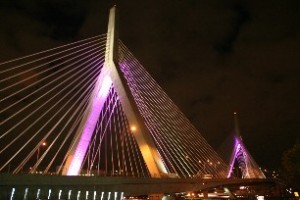 The first NIDCAP Training Center in Germany, NIDCAP Germany — NIDCAP Training Center Tuebingen at the Universitätsklinik für Kinder- und Jugendmedizin celebrated its opening on World Prematurity Day, November 17, 2015. In the evening Tuebingen's church was lit in purple in honor of World Prematurity Day.
Raleigh, North Carolina, USA
WakeMed's NICU, home of the Carolina NIDCAP Training Center, and a NIDCAP Certified Nursery,
turned the  hospital's homepage purple for World Prematurity Day.
Shared by James Helm, PhD, Director, Carolina NIDCAP Training Center, Raleigh, North Carolina.
www.wakemed.org
Oakland, California, USA
UCSF Benioff Children's Hospital Oakland had a great World Prematurity Day in November 2015.
Once again, we were fully supported by the hospital administration. Staff from throughout the hospital donated socks for our many sock lines; after the installations were taken down the socks were used in our NICU for the babies–we never have enough socks for those little feet. The sock lines were hung with clothes pins; we included photos of some preemies and their families from our NICU and written information on prematurity worldwide–all hung with clothes pins like the little socks.
We rolled out a Swaddled Bath video on the hospital's website and Facebook on World Prematurity Day. We gave every baby and family in the NICU a purple blanket with World Prematurity Day and the date inscribed on the blankets. We encouraged and supported parents to offer Kangaroo Holding, infant massages, and swaddled baths, if appropriate for their babies, as we always do. We gave families written materials encouraging them to do so as well as other information on prematurity.
Staff throughout the hospital were particularly moved by the tiny socks hanging on the lines–they loved participating, as they do every year, and loved seeing the lines hung. One line fell down on one side and I
was told one of our surgeons was climbing on a ledge to hang it back up.
Our sock lines stayed up throughout November, and actually a bit beyond. We felt it went well for our families, staff, and hospital, and we felt connected to hospitals worldwide doing the same.
Click here for photographs of the events.
Bette Flushman, M.A.
Infant Development Specialist
Neonatal Intensive Care Unit (NICU), Early Intervention Services (EIS)
UCSF Benioff Children's Hospital Oakland
Tehran, Iran
Valiaser Hospital in Tehran, Iran holds a special celebration for NICU families.
Shared by Dr Marzieh Hasanpour, Associate Professor of Nursing, Pediatric and Neonatal Intensive Care Nursing Department, School of Nursing and Midwifery, Tehran University of Medical Sciences, Tehran, Iran
Ireland
From the lighting of landmarks, to photo shoots with families, to policy making, units all over Ireland raised awareness of Prematurity
Shared by Mandy Daly, ACII, DLDU, Dip. H Diet & Nutrition, NFI Board Member, Director of Advocacy & Policy Making, Irish Neonatal Health Alliance
www.inha.ie