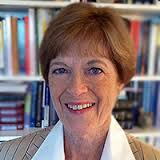 Parents often experience shock when their baby is born too early. As they enter the intensive care nursery for the first time, they may note that the environment is not at all what they expected. Instead, they may experience the overwhelming barrage of stimulation that is the newborn intensive care nursery or NICU. Having walked this path with hundreds of parents, I see that they immediately notice the loud ringing sounds that fill the unit: blaring monitors; the constant hum of respirators attached to some of the babies; and most especially the glare of bright lights used for medical procedures.
As a Developmental Educator, one of my roles is to support parents of premature infants to adjust to parenting their premature infant who is unexpectedly living in the hospital environment of the NICU. Some newborns are very young, having been born 16 weeks before due date, while others are close to their due date and beyond. I help parents to understand that during this time in the NICU, there is tremendous growth and development in the infant's brain and the types of experiences a baby has, such as the amount of light, shape their brain and overall development.
Before birth, an infant is accustomed to the muted light or darkness in the womb, however, an infant born early may be exposed to varying amounts of light while in the NICU There is some evidence that premature infants benefit from a cycled lighting schedule with light very dim during night sleep and low (not bright) lighting during awake times. NICU light may range from low levels to very high levels. If the parents and other adults are sensitive to the intense lights in a NICU, one may surmise that the delicate, fragile nervous system of preemies can feel discomfort as well. Older newborns (beyond 40 weeks post term) may demonstrate interest in faces or objects and need light adjusted in order to visually observe faces and interesting objects.
We know that letting light shine directly on the infant's face can be uncomfortable, and it may also be stressful to their thin eyelids, disruptive to sleep and affect the quality of their wakefulness. A reaction to stress may show itself in skin color changes from pink to pale, or the baby may become fussy, restless or exhausted. Lighting can be a challenge for parents and other adults, as well as newborns, in the NICU. Think of a time when, as an adult, you may have been very sleep deprived and overwhelmed by bright light, perhaps while in a shopping center for hours. This could cause increased stress and outright crankiness, fatigue and irritability and thus influences our interactions and relationships. This same effect on the nerves and brains of preemies can happen for hours and weeks, which is why it is critically imperative to monitor each infant within their nursery spaces.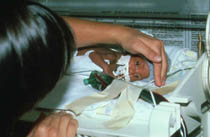 When describing light in the NICU, professionals now require that lighting should be adjusted to take into account the developmental and medical needs of each infant. New guidelines and standards have been drafted by a group of scientists who developed the Recommended Design Standards for Neonatal Intensive Care Units (1). These standards serve to update and inform medical professionals and parents of the impact of light on infants, parents and staff in the NICU. Further, they provide guidelines so parents and nursery staff can be aware and make adjustments to light in the hospital and at home after discharge. Lighting that lends itself to infant restfulness and relaxation and healthy development is essential. This includes adults' evaluations of infants' stability as observed by skin color, careful implementations of medical procedures, and staff attentiveness during long overnight shifts are among the goals of appropriate light levels.
Supporting implementations of low levels of light in the NICU helps in the development of healthy NICU environments. This in turn fosters optimum mental and emotional development of the infant and well-being for families and for nursery staff.
Kathleen A. VandenBerg, PhD
NIDCAP Master Trainer
Director, West Coast NIDCAP & APIB Training Center
University of California San Francisco
Department of Pediatrics (Neonatology)
Reference
1. White RD, Smith JA, Shepley MM; Committee to Establish Recommended Standards for Newborn ICU Design. Recommended standards for newborn ICU design, eighth edition. J Perinatol. 2013 Apr;33 Suppl 1:S2-16. doi: 10.1038/jp.2013.10.