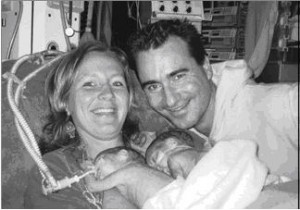 Doug and Flenn
After the burdensome delivery of our little lads, the first acquaintance was one marked by grief, in spite of the many earlier gloom and doom warnings. How could these tiny boys (30 cm, 660g and 945g, smaller than a lengthwise folded A4 sheet of paper) ever survive? After a hectic start the reality starts to dawn on us a little. We are "parents at a distance" of babies that used to be safe in their mother's womb. They received continuous care (24 hours a day, many physicians, nurses and a multitude of machinery) in the intensive care unit of the Sophia Children's Hospital in Rotterdam.
After their birth, we experienced quite contradictory feelings: happiness and anxiety; love and grief; involvement and distance; hope and fear. Next to these feelings, which fought for precedence in both of us, Joyce also suffered from physical complaints after an extremely tough delivery (forceps delivery, breech presentation, and a placenta forcefully removed under anesthesia) and was troubled by insomnia.
What followed after birth (and occurred even before birth) were the many long talks with physicians, who pointed out to us the possible consequences, complications, and chances of survival. Complications which we would have liked to tune out, because our visits to the boys made anxiety turn into some hope and happiness….
Every day was to be a day we were going to enjoy! The second night, however, we were given terrible information. Flenn had a pulmonary hemorrhage and his heart had stopped beating. Joyce, who was still in the maternity ward, had been told that Flenn had died. Upon hearing this, Edwin dashed to the hospital from the Ronald McDonald House. Thankfully, Flenn's heart started beating again. After many hours of utter nightmare, disbelief, anger, incomprehension and lots of questions, we fortunately regained some hope—a slight chance of survival, but a stable (yet life-threatening) situation. Miraculously, our Flenn pulled through again and again. But regrettably, in the four months in hospital this pulmonary hemorrhage was not the only setback. It proved very difficult to wean him off the ventilator, and after a viral infection at a later stage, we had to start all over (Flenn was placed back on the ventilator).Doug, during his hospital stay, developed much better than his brother. Apart from the operation on his patent ductus arteriosis, everything, very gradually, went in the right direction. We saw him grow, and more and more band-aids and tubes disappeared. Things that were bound to give the shivers to any parent became common to us, as if this was the most natural thing in the world for us (that realization hurt too!). In one day we witnessed ten heel pricks, one blood transfusion, replacement of the gastric and ventilator tube, and the insertion of a new central venous line—all in one day—and it just seemed as common as dirt to us. We just sat and watched helplessly…very annoyed and emotional! Every time we got our little lads quiet again something nasty would happen and the whole process started over again. The small steps forward we saw, the steps backward we tended to trivialize. Everything was going to be all right in the end. Limitations and complications we would gladly put up with. Our boys didn't need to do well in school; they didn't have to be champions in sports. We would be content with them horsing around as healthy, happy boys in our garden. What became most important was every time our little guys had made a step in the right direction.
There were also moments when we could find enjoyment in just holding our sons. Kangaroo care was fantastic (although a bit strained due to the many wires). We tried to be with them as much as possible and gave them vitamin "L" (Love). Meanwhile, Joyce expressed milk continuously but was sometimes disappointed by the amount of milk produced. This was, however, the only thing we could do….
The boys underwent examinations that made us very anxious. Eyes, ears and bones needed to be checked and also brain scans were regularly performed. The eye check-ups were horrible. The eyes were kept open with an eye speculum so the doctor was able to inspect them with a laser (It appeared like this to parents, though the laser was not used during this examination). In our case, fortunately, there were no observable complications and anomalies in this area. There were, however, white spots on both of their brains, but this might turn out well. What a tremendous relief!
After two months of intensive care in Rotterdam the boys got promoted. We moved to the high care unit in a peripheral hospital. Still we had mixed feelings again. On the one side, we had to leave the reliable and excellent care in Rotterdam and the kind people at the Ronald McDonald House. On the other side, the great step homewards to the unknown hospital! Unknown, unloved, the latter feeling prevailed.
The ambulance transport took a lot out of the boys. The trip apparently was very tiresome and on arrival at the hospital the oxygen was firmly increased. After a few weeks we moved forward step by step. From an incubator to an open crib, from a tube to a bottle, and oh, how happy we were with every milliliter they drank. We increasingly took over care from the nurses. We gave them their bottle and were encouraged to bathe them…and then they slept together in one crib.
Still we needed a good deal of getting used to, when they came off of the saturation monitor. Now we only had our children to look at and no longer the monitor. After a few days without incidents the time came…we took our boys home to Zeeland, a coastal province in the Southwestern Netherlands. The Zeeland clay, the refreshing sea wind and our care will do them a lot of good! At the time of this writing, Doug and Flenn are nearly three years old and are doing great! Their lungs remain weak and when a virus comes along they are bound to pick it up. Several times this has led to a week's stay in the local hospital, where the boys needed to be put on oxygen. Also the Pariboy nebulizer and the sprays are regularly used. As far as we can judge, their development, both cognitive and motor, is beyond expectation. We keep in close contact with Rotterdam, and they too are proud of this success story. We are very grateful that our children could be treated in three excellent hospitals and that we are the proud parents of these little miracles of the world.
In early 2008, Doug and Flenn became brothers to a little sister. Meg came into the world after 40 weeks gestation. We now realize how carefree such a start can be! Doug and Flenn are wonderful brothers!
And daddy and mummy…life for them will never be as carefree as in the days before the kids. Many others who had to go through all this have grown apart or, on the contrary, together. We did our thing and always put all the wood behind one arrow, or as we say in Dutch: "Put our noses in the same direction." Together we hope that Doug and Flenn will go on to surprise us in the future!